ENTRUST YOUR PETS' HEALTHCARE NEEDS TO THE EXPERIENCED ETHICAL AND COMPASSIONATE CARE OF DR. EHUD SELA.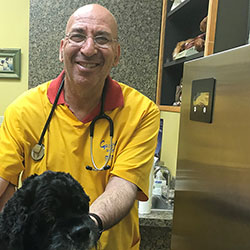 Since early childhood Dr. Sela has been surrounded by pets and farm animals. His parents, at the age of three, found him sitting among the dairy cows in the agricultural school where they were teaching, and their young son was sitting with the young calves that were licking his face and he was giggling in delight.

Until these days Dr. Sela remembers his first dog Lulu. He was six years old when the family moved to another country on a teaching assignment and Lulu was left with the neighbors. He remembers vividly looking back through the car's windows and seeing Lulu in the street looking at them depart, both of them not fully realizing the full impact of the moment.

Many, many dogs and cats since then have graced his life with their tender loving presence.

Dr. Sela truly believes in the name he has chosen for himself as the gentle vet. He believes good medicine goes hand in hand with compassion and kindness.

Dr. Sela has twenty-eight years of experience as a veterinarian.

Dr. Sela is also a published writer of poetry and fiction.